Mayor Linda Johnson recognized Terry Peterson Co. in her State of the City speech on Thursday, May 14, as accounted by HamptonRoads.com (article below).
Our team is honored to be a part of the continuous growth within the Suffolk community, and look forward to future projects.
---
"New retail is on its way to North Suffolk's Harbour View area, Mayor Linda Johnson said in her State of the City speech Thursday.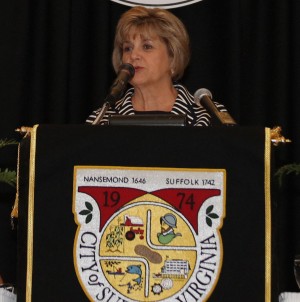 In a presentation steeped in cinematic imagery, including Oscar-like statues, a red carpet and movie clapboards, Johnson said Virginia Beach-based Terry-Peterson Cos., the master developer of a mixed-use development called Hampton Roads Crossing, has signed leases with:
- Ross Dress for Less, a discount department store chain.
- Michaels arts-and-crafts retailer.
- Petco.
- Ulta Beauty, a cosmetics and beauty products chain that also has a salon.
- Five Below, a discount store that caters to younger shoppers by charging no more than $5 for products such as video games, iPhone cases and portable speakers, according to its website.
"OK, ladies, here we go," the mayor said before announcing that DSW Designer Shoe Warehouse would also be among the new tenants, eliciting a positive response from a few in the audience.
"The Hampton Roads Crossing has proven to be a strong economic engine," Johnson said. "I couldn't be more thrilled and supportive of this dynamic mix of tenants that has selected Suffolk to grow their business."
Hampton Roads Crossing is anchored by a Kroger Marketplace that opened in December at 1017 University Blvd.
The new retailers would occupy approximately 89,000 square feet of adjacent retail space, according to John H. Peterson III, senior vice president of Terry Peterson Cos. It is part of a roughly $20 million project that would include an additional 9,000 or so square feet of planned retail space yet to be leased, Peterson said by phone Thursday.
Residences at the 150-acre development include detached condominiums as well as an apartment community, with another on the way, Peterson said.
Construction for the new retail space began in early April, he said, with stores expected to open by late spring or early summer 2016."
---