Published on December 06, 2014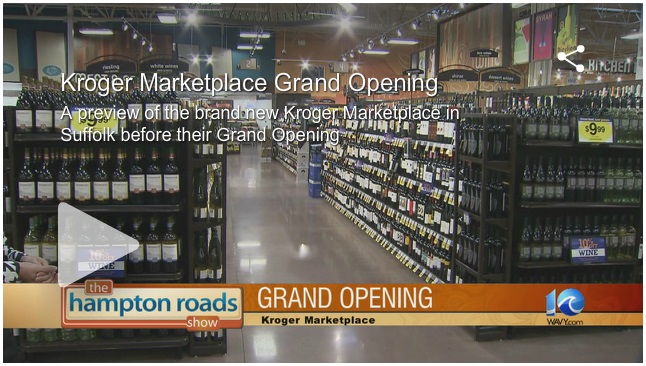 The brand new Kroger Marketplace opened this week at Hampton Roads Crossing in North Suffolk. It was a very successful turnout as employees handed out free food to the first 500 customers. Fred Meyer Jewelers, a store within the marketplace, gave out pearl bracelet sets to its first 100 customers.
Mayor Linda Johnson and city officials were on hand for the ribbon cutting and donations were given to three organizations, The The Foodbank of Southeastern Virginia and The Eastern Shore, The MWM Foundation, and the unveiling of a community room inside the store. The room was dedicated to James Winslow, a former Suffolk police officer who suffered severe injuries in the line of duty in 2012.
The new marketplace is an exciting addition to Hampton Roads Crossing, as the residential and retail, mixed-use concept continues. In addition to groceries and a cheese shop, the store will include:
• A Starbucks kiosk with seating area and free Wi-Fi
• Kroger Fuel Center where customers can earn fuel points on all goods purchased
• A drive-through pharmacy
• A deli bistro with cafe seating, free Wi-Fi and flat screen TVs
Kroger is the anchor store for the shopping center that is yet to be named. More tenants will be announced in the Spring of 2015.
Additional news coverage:
WAVY.com
The Daily Press
Virginia Business
Suffolk News Herald
Inside Business
For more information on Hampton Roads Crossing, visit www.HamptonRoadsCrossing.com and www.TerryPeterson.com.