Published on July 28, 2014
Tagged: amenities , benefits , energy-efficiency , low maintenance homes , new home construction , suffolk , terry peterson homes , top ten reasons , virginia beach , warranties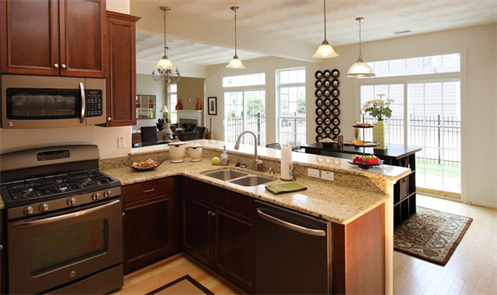 The Porch Homes at Sajo Farm have Open Plans, Granite Countertops and GE Slate Appliances.
1. Design Your Home, Your Way Why move into an older home knowing you want to tear out those ugly cabinets and floors and remodel as soon as you can afford it? With a new home, you can select your favorite countertops, appliances, carpets and flooring. You may also be able to select fixtures and lighting that fit your style. You'll appreciate having a home that is move-in ready.
2. Choose Your Favorite Floor Plan Many older homes have a closed-in boxy feeling as soon as you walk in the door. Or perhaps the floor plan was oddly designed and windows are small. With a new home, you can choose an open floor plan that fits the way you want to live with plenty of windows for natural light. Thinking of a home office over the garage? How about a formal dining room or 2 master bedrooms on the first floor? With new homes, you have many more options than when buying older homes, including larger closets and baths.
3. All New and Under Warranty There is nothing worse than buying a home, moving in and discovering the air conditioner does not cool the upstairs efficiently…in the middle of summer. Or the refrigerator is on it's last leg. A new home can offer brand new windows, appliances, roofing and water heaters that are under warranty to save you the headache of additional costs, as well as high monthly heating/cooling bills.
4. Energy-Efficiency Saves You Cash Today's new homes are far more efficient. You may want to reconsider buying that drafty home with old windows that waste energy…and your money!
5. Better Indoor Air Quality Today's homes meet stringent energy standards and codes that were not in place in the past. Combining high-performance energy efficiency with state of the art ventilation and air filtration means a more comfortable home for you and your family.
6. Low Maintenance Newer home building products such as James Hardie Plank siding require less care and maintenance. Terry-Peterson's single-family homes are detached homes built with a condominium form of ownership which means common areas are consistently maintained so you have a higher home value.
7. Community Amenities Resort-style pool, clubhouse, 24-7 fitness room, community green, kayak launch, tot lots, walkway around lakes with fountains – and the list goes on. All of Terry-Peterson's new home communities offer amenities that make each neighborhood a great place to live.
8. Advanced Design It goes without saying – new appliances, cabinets, countertops and lighting fixtures make a huge difference in how you feel about your new home. Plus, open floor plans and high ceilings on the first floor give you room to breathe and make the home feel much larger. Buyers want windows for light and to enjoy the view, bringing the outdoors in.
9. Safety From quality circuit breakers and high-efficiency heating and air conditioning to cabinets, carpeting and paint that is environmentally friendly, a new home can provide better products so your family can breathe easier.
10. New Home Feel A used home was someone else's dream, not yours. When you buy a Terry-Peterson home, you can choose your floor plan, flooring, cabinetry and fixtures to reflect your taste and style and offer the latest designs, comfort and quality. All you need to do is move in and fall in love with your new home.
Some data excerpts compiled From New Home Source ~ Read More
For more information on Terry-Peterson's new home communities in Virginia Beach and Suffolk, visit www.TerryPeterson.com or call Jen Barkan at 757-276-7300 for our inventory of homes ready now.