Since the tiny utilitarian bathroom became a thing of the past, today's new home buyers are looking for the spa experience. Garden tubs and separate showers are now just as important as the flooring, lighting and fixture choices. Larger baths allow plenty of room for decorative items such as the magazine rack and table in this master bath at North Shore at Ridgely Manor.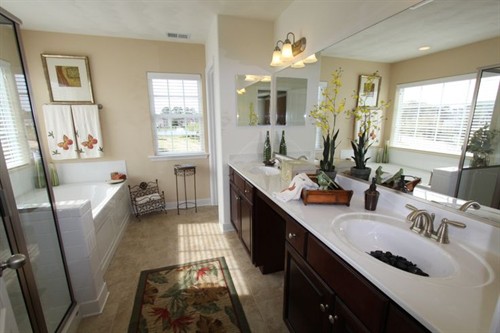 This large master bath with garden jetted tub and separate shower offers plenty of room for the spa experience.
Many of Terry-Peterson's new homes feature master baths with large windows on adjacent walls for plenty of natural light. Double-bowl vanities and granite countertops are stylish requirements and additional vanity space allows you to add your own decorative touches. An open central area under the cabinets is perfect for vanity seating and there is no such thing as too many drawers in a master bath! Sophisticated lighting and the two handle faucets with contemporary, brushed nickel finish complete the look.
Natural toned, ceramic tile flooring accents the darker wood cabinets for an earthy touch. The larger ceramic tiles require less grout for easy care as well as reduced maintenance. Soft, decorative area rugs add a layer of color, style and warmth.
Remember the old stainless steel cup and toothbrush holders hanging on the bathroom walls in awkward places? We're quite happy to never see those again…unless you're into the retro-style bath! Needless to say, we think the sophisticated and relaxing "spa-like" bathroom is here to stay.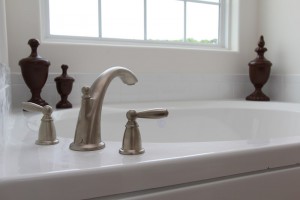 The sleek design and fixtures on this garden tub add to the relaxing atmosphere.
Stop by any of Terry-Peterson's new home communities and tour our models  - all new homes come with relaxing master baths for the perfect retreat.
Call Jen Barkan at 276-7300 for information on our current inventory of homes ready for move-in!